I need to book a Radiology appointment - how do I do this?
I've received an SMS text to book my appointment - how do I book this?
When your GP/Consultant refers you for a Radiology appointment, you will receive 2 SMS texts advising you on the status of your referral and when / how to book your appointment online.
SMS Text 1 - Acknowledgement that your referral has been received.
Once your referral is received, you will receive an SMS text advising that your Radiology referral is being processed and that you will receive a second SMS text once this is ready which will then invite you to book your appointment online.
Until you receive this second text inviting you to book, you will need to wait. You will not be able to book online.
SMS Text 2 - Invitation to book your appointment online
Once your referral is processed, you will then receive a second SMS text inviting you to book your Radiology appointment online.
The text will include a specific link unique to you which you need to click on to book.
Once you click on the link, you will be invited to either register as a new patient (if you have not used Swiftqueue before) or else login as an existing user (if you have previously used Swiftqueue) (see Registration Article if you need help registering)
You can only book using the specific link sent to you in the SMS.
Radiology appointments are NOT available to book online via the main website.
(If you have forgotten your login details, you can reset your password by clicking on the I forgot password option on the login page - for more information please see Reset My Password)
Once you login to your account: You will now see the options showing for Radiology.
Choose your

Clinic

if more than one location showing.
Clinics listed below are examples only
Select the

date and time

you wish to attend for your test and then click the

NEXT button.
The time screen will offer you the next available time.

You can

click the right arrow to move to a later date

/month

if needed.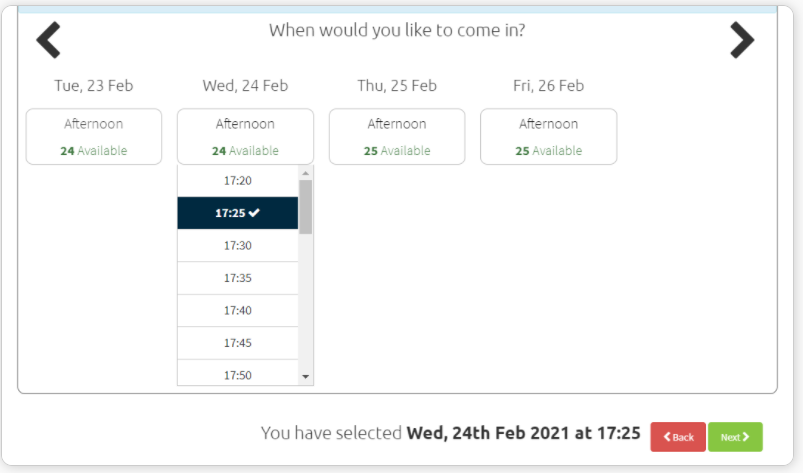 On the confirmation page tick the box

to agree to the terms and conditions and hit

confirm.
Your

Appointment will now show in your Upcoming Appointments

section in your patient portal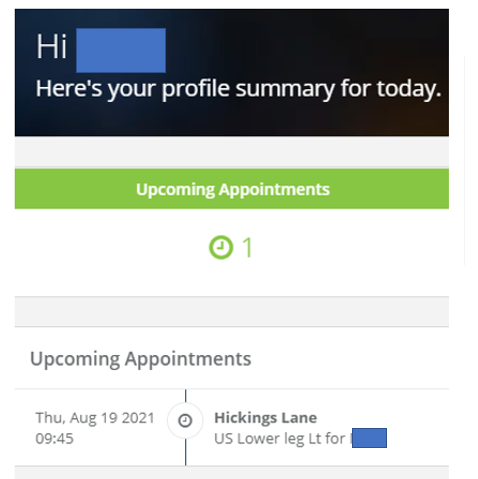 You will also receive a

confirmation email

for your appointment once booked.
Please

check your Junk / Spam folder if you don't receive this

incase it has been redirected there instead of your main email folder.